Contemporary political risk in Cambodia: An on-the-ground assessment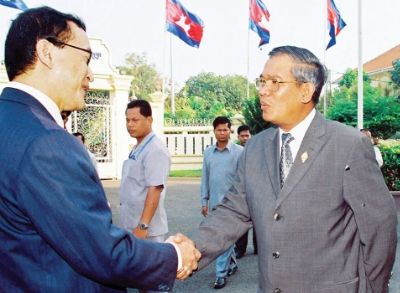 Contemporary political risk in Cambodia has traditionally revolved around forced evictions, labor unrest (particularly in the garment industry), rampart crony capitalism between the nation's political and business elite, the unenforceability of contracts, the tenuous to non-existent rule of law, long-standing traditions of corruption and patronage, environmental despoliation (especially of the forests), and sporadic incidents of politically motivated violence.
With the recent July 28, 2013 national elections for the Prime Minister and the Assembly, however, the contemporary political situation in Cambodia has been so volatile that it requires near daily reassessment, for the physical safety on one's self, family, friends, and colleagues, the fiscal security of business and personal investments, and the ability to assess the efficacy of ongoing international donor aid.
Although this situation is playing out on the ground now, the roots of it go many years back. We could take an analysis of these roots as far back into history as we might like. For the purposes of succinctness, however, let us start with the demise of the Khmer Rouge in the late 1970s, or "Angkar" as they called themselves in the Khmer language, which means, simply: "the organization."
Many people are familiar with the humanitarian disaster created in Cambodia by Angkar during the second half of the 1970s. While it is difficult-to-impossible to qualitatively rank the nature and impact the major wars and humanitarian disasters of the 20th century, the "Killing Fields," as it has come to be popularly referred to in the Anglophone world, must certainly make any list of the most significant ones. While it may not have been the biggest, it was arguably the most bizarre.
Angkar tried to turn what had been a relatively culturally and intellectually vibrant society into a classless, agrarian slave state almost overnight by utilizing some of the most brutal episodes in the history of world communism as exemplars, such as Stalin's purges and, especially, Mao's Cultural Revolution. In the process, they killed approximately 2 out of approximately 8 million of their own people. This resulted in a condition that the English language struggles to even label, although attempts have been made: "Autogenocide?" "Policide?"
Although the general outlines of this sad tale are well known to many, certain key features bear reiteration to understand the impact of this episode on judging contemporary political risk in Cambodia today. Furthermore, some of the information to be provided below may not well known to those people who are only familiar with the general outlines of the story.
First, it should be clearly stated that the mainstream intellectual consensus is that Angkar was able to seize state power because of the political instability and chaos created by the "secret bombing" of Cambodia during the Vietnam War, which was engineered by Nixon and Kissinger and killed an estimated 300,000 Cambodians. Beyond that foundational fact, several salient points must be briefly alluded to as well.
The approximately 2 million killed were not only the intellectual elite (the white collar professionals, those with college and university degrees, teachers, people who spoke foreign languages, etc). They even included virtually all of the high school students of that generation. So, tragically, and to put it bluntly, virtually everyone with a modicum of intelligence, in a multi-generational age cohort, was killed. Those who managed to escape this fate were very resourceful and very lucky. Needless to say, when any country loses several generations of its "best and brightest" in the course of a few short years, it is an extraordinarily tremendous setback to rebound from. The rebounding process continues to this day. The crowning irony of it all is that much of the top leadership of Angkar had Ph.D.'s from the top universities of France, like the Sorbonne and College de France.
Angkar operated in conditions of the utmost secrecy and paranoia, and reveled the identity of their leadership only to the tiniest handful of people, further exacerbating a pervasive sense of highly justifiable paranoia among the populace. In the final days of the regime, the secrecy and paranoia of the regime started to even feed upon itself. Angkar started to kill Angkar.
There is a "popular tourist destination" in the capitol, Phnom Penh, called "Toul Slang," or "SR-21," after its official Angkar name as a prison and execution site. It was a school converted into a death camp. Most contemporary tourists know it as one of the places where Angkar did much of their mass murder and torture. It was certainly that. What less people know, however, is that this facility is where the political party (cum national administration) began imploding and killing its own cadres, from everywhere down, except the very highest levels. Its leader, Duch, has the only conviction out of the International Criminal Tribunal so far, which has been in operation for approximately a decade.
Perceptive and prescient mid-level commanders and below started to "see which way the wind was blowing" at this point, and quickly began to realize that their own lives may be in jeopardy, no matter how dutifully obedient to Angkar they may have been in the past. So, significant numbers of civilians, cadres, mid-level officers, and front-line soldiers simply started to flee and desert en masse to whichever neighboring countries they could reach. A massive amount of refugees fled to Thailand and endured the squalid conditions there for years, often in camps that were still essentially run by Angkar, in spite of the best efforts of the foreign community to ameliorate this situation.
Another sizable faction fled to Vietnam and this is where our story of contemporary political risk in Cambodia really begins. When Vietnam invaded Cambodia in 1979, to put an end to the political instability caused by Angkar border incursions into their territory and to apply the coup de grace to a murderous and foul regime, they also brought with them many of these mid-level Angkar officer deserters to serve as the new administrators of the country.

This included Hun Sen, the current prime minister, who has ruled for the last 33 years under various titles and guises, some one who may be one of the last dictators in the world. Furthermore, a fact not widely known is that the Vietnamese also brought substantial amounts of Vietnamese advisors into the highest levels of Cambodian government, where many remain to this very day.
Hun Sen destroyed the royalist party

Funcinpec

, led by

Prince Ranariddh, through orchestrated political violence

in 1997, and a 1998 election marred by widespread election fraud. Approximately 300 people were killed. Since then, Hun Sen's Cambodian People's Party (CPP) has held a firm grip on power through a variety of means; sheer persistence, house-to-house intimidation to join the party down to the grass-roots level throughout the county, shows of force and political intimidation, pragmatic power politics, and managing to secure an ongoing flood of international donor aid far into the billions. This would certainly imply that the "great powers" prefer stability to democracy and the rule of law in Cambodia, in spite of the humanitarian gloss they typically put on their aid.

Foreign direct investment often takes less of an interest in putting on this humanitarian gloss, and yet still benefits greatly from cozy relations with the power elite.
Although it must be said that this is not always the case. For example, some prominent foreign sugar exporters recently ceased buying from Koh Kong-based distributors because of controversy surrounding the distinct possibility that much of their plantation lands may have been acquired through illegal evictions.
Hun Sen has also managed to place over 30 of his blood relatives and in-laws into a wide variety of the most powerful and influential positions in the country, in government, media, and business.
In October 2004, Norodom Sihamoni was chosen as king by the Royal Council a week "after the surprise
abdication
of King Norodom Sihanouk" (Norodom, 2013). Norodom Sihamoni was allegedly afraid of taking the job (
Post-Coup Cambodia, 1997). This fear was and is not entirely misplaced, as Hun Sen has been quoted as saying the "royal family must prepare their caskets and funerals if they oppose me."
Today, the (nominal) Kingdom of Cambodia could reasonably be characterized as an authoritarian kleptocracy run for the benefit of Hun Sen, his family and in-laws, and a select few well-placed people and families in politics and the "security" forces. Among themselves, they share the profits and graft from basically every lucrative sector of the Cambodian economy; especially smuggling, legal and illegal logging, and real estate (Cambodia's Family Trees, 2007). Smuggling often occurs in politically connected border areas and ports. Logging often extends even into government-designated conservation areas, and is quite often transported for export by military trucks and under military protection. In real estate, the situation is made even more ambiguous and convoluted because Angkar destroyed virtually all of the pre-existing land title documents. Therefore, many people and communities throughout the country have had to resort to customary occupancy rights (i.e. they were there before Angkar and have a reasonable right to return)
Others, typically desperate and homeless at the demise of Angkar, simply squatted and held title by their active possession and use of possession of the parcel for an extended period.
In this highly ambiguous legal landscape surrounding land tenure in Cambodia, the authorities often condemn land parcels, summarily evict all occupants, sometimes literally taking them by truck and dumping them in fields far from their homes, and allow the land to be sold to well-connected investors, business people, and corporations, with many levels of government receiving the expected graft payments. With the explosion in land valuation in Cambodia in the last decade, this problem seems to get worse with each passing year.
The median age for Cambodians is 23.7 years

(United States Central Intelligence Agency, 2013), making it one of the younger countries in the world. More than half of the country has no living memory of the Angkar period and have only known the Hun Sen regime. They are losing their patience with the obvious graft, corruption, one party rule, disparity of wealth, and obvious lack of a rule of law or democracy in their country. They only want what most of the rest of the world wants: access a bigger shot at the consumerism that constitutes the heart of globalization, as well as democracy and the rule of law.
The main urban centers and the youth are the strongest supporters of the opposition. I have personally witnessed demonstrations numbering in the thousands preceding the July 28, 2013 national elections, in municipalities ranging from the small border town of Poipet to the large capitol of Phnom Penh.
Unfortunately, while their youth may give them spirit, vigor, and the ability to show up at flash mob demonstrations, they still lack the political experience that will enable them to translate their generalized frustration and specific objections to the election process into concrete and lasting political change.
Opposition leader Sam Rainsy was allowed home from exile in France, to which he fled escaping incarceration over politically motivated legal charges, by means of a royal pardon requested of the king by Hun Sen, in the weeks before the election. This galvanized the opposition, even though much of his electoral base characterized their support of Rainsy as being less for Rainsy

per se

as much as simply being against Hun Sen, three decades of one party rule, and the general corruption and cronyism that has resulted from that. A few days after his arrival back in Cambodia, he was barred from running on a technicality by a politicized judiciary.
The election itself was marred by extensive allegations of voting fraud. There is anecdotal and certifiable evidence that people who were going to vote for the opposition were paid not to vote at all, Vietnamese citizens were allowed to vote, many votes cast for the opposition were discarded or uncounted, many vote tallies were changed after the fact, and many of the rest of the typical features of widespread, systematic, and pervasive election fraud were present.
According to the constitution, the king had 90 days to open parliament after the election but chose to open it on the scheduled day, well in advance of the constitutional deadline, before frosty talks between the CPP and opposition had any chance to bear fruit.
Hun Sen threatened to simply take the opposition seats if the opposition would not seat themselves, a threat he has not carried out as yet, although he has gone forward in forming a single-party government.
The elected opposition parliamentarians and their acolytes then fled to Siem Riep, the town closest to the UNESCO World Heritage site of the Angkor Wat temple complex, and refused to take the 52 seats in the Assembly that even the existing government admitted they had won. If the opposition had taken these seats, they would still be the minority coalition party in the Assembly but nearly at parity with the ruling party. Yet, if they took their seats, they would be severely letting down the expectations of their constituency, to fight tooth and nail against the alleged (and widely assumed) election fraud.
Since then, it has been a game of cat and mouse, ranging from petty but highly symbolic insults to very public shows of raw strength and brute intimidation, with the ever present possibility that massive civil unrest could erupt at any moment, even to the extent of plunging the kingdom into some kind of hybrid between civil war and revolution.
Hun Sen called the opposition's refusal to take their seats "an insult to the king and constitution," in spite of the fact that the king had and the constitution allowed for considerably more time to open the Assembly then they actually used. Opposition rallies drew 20,000 people to Freedom Park each day in September 17-19, 2013. Plain-clothes civilians, who many locals and international observers assumed were closely related to the "security forces" or other highly-connected elements of the political-economic elite (particularly because uniformed police and military men did nothing to restrain their activities) used tasers, electric cattle prods, and sling shots firing heavy marble-like objects to disperse the crowds. They even seemed to single out foreign aid workers, human rights activists, and international election observers, which is an unusual development in a country whose economy is so heavily dependent on international aid and tourism.
In a more southern part of the city, riots broke out near the Monivang Bridge, also known informally as the "Vietnamese Bridge," because it is the main land route between Cambodia and Vietnam - and Phnom Penh and much of eastern Cambodia. One person was shot in the head and killed. Indeed, many of the major strategic entry and exit points into the capital, and strategic intersections within the city, were cordoned off by security forces, concertina razor wire, and metal blockades. Vehicles carrying large numbers of people were not allowed from the provinces into the city, presumably to lower the attendance at the opposition rallies. Running street battles between the people and security forces were erupting on and off throughout the capitol. Certain places quickly became "no-go" areas for anyone concerned about their physical safety. Anecdotal evidence indicates that many of the high-end hotels quickly lost a significant amount of their clientele. Hundreds, if not thousands, of security personnel were quite visibly out in force, in staging areas near or within the blockades. High speed troop movements in trucks and conveys of armored personnel carriers crisscrossed the city, in what was likely either a method of intimidation or tactical deployment; or both.
During the peak of tension, a significant number of Cambodian citizens were getting their information from Twitter and Facebook, as there was a tacit embargo on any news regarding the protests in mainstream Khmer-language media outlets. This is not surprising, considering Hun Sen's daughter owns one of the major television channels, and his political and economic allies own much of the rest of them.
After that, things settled down for a few weeks and it seemed like the worst was over. The opposition started talking about 2018, the next round of national elections. Meanwhile, the main opposition leader, Sam Rainsy, embarked on a tour of America and Europe to urge the main signatories of the 1991 Paris Peace Accords, which marked a kind of

de jure

but not

de facto

end to the Khmer Rouge regime, as they still held significant portions of the country, including the lucrative gem producing region of Pailin.
Rainsy's travels seemed to antagonize Hun Sen and his party, even though they are usually pragmatic enough to know how much their country's economy depends on the international donor aid that follows in the train of international good will. Power politics seems to have remained on Hun Sen's side, as most of the "great powers" preferred predictability and stability over their oft-stated goals of multi-party democracy, the rule of law, transparency, decreased corruption, and accountability for Khmer Rouge atrocities. Rainsy's international solicitations seem to have been politely ignored.
The political kabuki continued. A new stature of "King Father" Sihanouk was unveiled, a king who abdicated twice and is regarded by many as the architect of Cambodian independence. The opposition was formally invited by the ruling party to an opening ceremony, but required them to attend in parliamentary dress, which they did not have, because they had not been seated yet. This provided the CPP with yet another propaganda opportunity to say that the opposition did not respect the royal family and the principles of the constitution. Then the spokesman for the ruling party went so far as to say that he "did not know why Rainsy has not already died in a plane crash" in a radio interview.
Rainsy came back to Phnom Penh from abroad in time for a second round of a three day protest which began on October 23, 2013. While the

assassination of Rainsy as he stepped off the plane and onto the
tarmac, ala
Benigno Aquino, Jr.
in 1983

in the Philippines was not utterly beyond the realm of possibility, Hun Sen was probably too shrewd and pragmatic a survivor to order or tolerate such a move.
The greatest threat to political risk at this hour is the unpredictability of the impact of Rainsy's return to Cambodia. Will this galvanize the opposition and lead to a popular uprising? If so, how harsh will the government's response be? Will outrage fatigue win the day and the second round of rallies be poorly attended?
The opposition had planned mass marches to "deliver a petition to the U.N. High Commissioner of Human Rights" not far from the U.N. headquarters (
Cambodian National Rescue Party letter, 2013).

They also plan marches to the "French, Japanese, U.S., Chinese, Indonesian, English and Australian" embassies in Cambodia (

Cambodian National Rescue Party letter, 2013).
The Governor of Phnom Penh expressly forbade these marched. On October 22, 2013, the Ministry of the Interior essentially overruled the Governor of Phnom Penh and allowed it. The governor said no more than 1,000 people could walk. I witnessed at least 7,500 people walking

through the Boeng King Kong 1 district of Phnom Penh, near the U.N. headquarters

. One native Khmer watching the rally before the march live online told me that there were 70,000 people there, although I wasn't there and haven't independently verified that figure.
How will the government react to such a loss of face if these rallies and marches are big and continue to get bigger, in a land with a millennia-long tradition of respect for the devi-raj; the god-king; the strong-man? How will the people react any overt acts of repression given their millennia-long tradition of superstition, animism, and fatalism that firmly undergird the later add-ons of Shiva-centered Hinduism and Theravada Buddhism? Has globalization and consumerism taken that half of the country's population under the age of 23.7 years far, far away from all of these long-standing traditions? Do significant traces even remain?
Anecdotal evidence indicates that Hun Sen no longer trusts the Phnom Penh based-branches of the security forces to police these protests and any ongoing civil unrest, and is mobilizing units from the provinces, who will probably be less emotionally and personally invested with the street crowd than Phnom Penh-based units would be.
Unfortunately, it is not hard to imagine a terrified, poorly trained, poorly educated, very young soldier from some small town in the provinces, becoming so nervous and feeling so overwhelmed in the face of such a gigantic crowd in the "big city" that he unloads a full clip of an AK-47 into a crowd of 20,000 and kills 30 people in 30 seconds. Or fully deliberate and far harsher responses may be possible as well. Or, everything could go on peacefully, without any incidents whatsoever and the opposition will bide its time until the next national elections in 2018.
In which case, Cambodia will continue on with its usual sources of
contemporary political risk: forced evictions, labor unrest, rampart crony capitalism, the unenforceability of contracts, the tenuous to non-existent rule of law, long-standing traditions of corruption and patronage, environmental despoliation (especially of the forests), and sporadic incidents of politically-motivated violence.

The roads will continue to be full of their usual combination of $300-$1,000 mopeds and $80,000 SUVs, trucks, luxury sedans, and sport cars.
Cambodian National Rescue Party letter to the Municipality of Phnom Penh, as cited in Dara, M & Willemyns, A (October 18, 2013).

The Cambodia Daily, (56),

35, p. 1.
Government reverses ban, agrees to CNRP march. Dara, M & Willemyns, A (October 23, 2013).

The Cambodia Daily, (56),

39, p. 1.
Cambodia's Family Trees, Illegal logging and the stripping of public assets by Cambodia's elite. (2007, June).

Global Witness.
Norodom Sihamoni. (2013).

Wikipedia. Retrieved from http://en.wikipedia.org/wiki/Norodom_Sihamoni
Post-Coup Cambodia: Relaxation or Further Repression? September/October 1997.

F.A.S. Public interest report; Post-Coup Cambodia: Relaxation or Further Repression?

Journal of the Federation of American Scientists, (50),

5. Retrieved from http://www.fas.org/faspir/pir0997.htm.
United States Central Intelligence Agency. (2013).

The World Factbook, Field listing, Median age. Retrieved from https://www.cia.gov/library/publications/the-world-factbook/fields/2177.html